Principi e costruzione nell'architettura italiana del Quattrocento
Book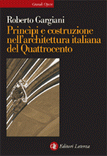 Principi e costruzione nell'architettura italiana del Quattrocento
Un saggio innovativo che indaga l'architettura del Quattrocento in Italia in tutti i suoi tipi –chiese, conventi, cappelle, palazzi pubblici e privati, case, ospedali, fortificazioni urbane, rocche e castelli, ponti– privilegiando l'analisi delle tecniche, delle strutture e dei materiali per chiarire i rapporti tra logiche della costruzione e forme 'moderne' e 'all'antica'.
Reference

Record created on 2004-12-20, modified on 2016-08-08
Fulltext
There is no available fulltext. Please contact the lab or the authors.